Hill orc


Level
3
STR
18
DEX
10
CON
18
INT
4
WIS
5
CHA
4
Armour
7
Equipment
wooden club
Loot
apple
Kill XP
43
Depth
900—1400
The hill orc is a common enemy in the early levels of the dungeon. They are often found accompanying a orc captain, and are commonly armed with a wooden club. Later in the dungeon hill orcs may be found riding wargs and equipped with a spear.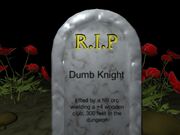 Ad blocker interference detected!
Wikia is a free-to-use site that makes money from advertising. We have a modified experience for viewers using ad blockers

Wikia is not accessible if you've made further modifications. Remove the custom ad blocker rule(s) and the page will load as expected.