An accessory worn over the eyes. Black Spectacles appear as a pair of black glasses.  These can be worn in addition to a helm.
Black Spectacles allow the wearer to read any spellbook successfully, regardless of INT, skill, or curses.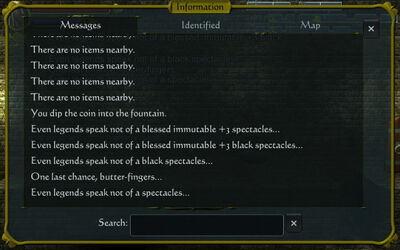 Apparently, Black Spectacles cannot be wished for at a fountain. However, the wording seems to be incorrect.!
Stats:
Armor +0
INT +2 for each modifier in the title (only when blessed)
INT -1 with a -1 modifier
May be burnt
Ad blocker interference detected!
Wikia is a free-to-use site that makes money from advertising. We have a modified experience for viewers using ad blockers

Wikia is not accessible if you've made further modifications. Remove the custom ad blocker rule(s) and the page will load as expected.